Sabratha_ The workers of the Libyan Red Crescent (LRC) had recovered the bodies of 43 migrants on the cost of the city of Sabratha, 70 kilometers west of Tripoli, during the last two days.
It would appear that these victim were sailing aboard a make-shift boat that started its journey at some point of the Libyan coast.
The Sabratha's LRC office said that after receiving a notification from authorities about the existence of the scattered corpses on the beach its volunteers moved to the site and recovered 17 unidentified bodies on Sunday 23 April 2023.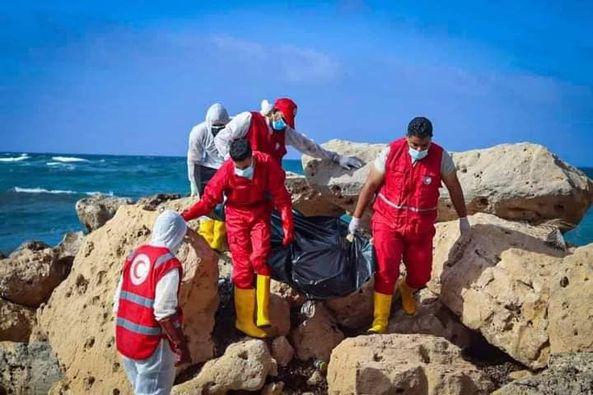 Next day, however, the same team recovered another 11 bodies in the same vicinity. The number increased by another 15 bodies to reach the total of 43 bodies that have been retrieved so far, according to the Libyan National Human Rights Commission.
There is a possibility that more bodies could be found as it is not known how many unfortunate migrants were aboard the sunken boat.
Libyan authorities did not say as of what origin or regions did the recovered bodies could belong to. The bodies were taken to a hospital under the supervisor of the public prosecution office and Sabratha Police Department.