Tripoli­_ Libya's Oil Minister Mr. Mohamed Aon met on Monday with the British Ambassador Nicholas Hopton in Tripoli and both discussed bilateral cooperation in the oil sector between Libya and Britain.
"The Minister welcomed the efforts to strengthen cooperation with British companies on a commercial basis," the Libyan News Agency reported.
Mr. Aon also stressed to Ambassador Hopton that the Ministry of Oil in the Government of National Unity (GNU) is "the sole political channel when it comes to making contacts regarding cooperation in the Libyan oil sector," the agency said. This principles goes for all countries in the world which are keep to forge close relations with Libya.
Taking note of a trend on the part of foreign ambassadors who prefer to deal directly with Libyan companies, personalities and institutions without consideration to political and diplomatic norms, the Oil Minister also made it clear to Ambassador Hopton that "the National Oil Corporation (NOC) and its affiliated companies are only dealing with technical aspects of cooperation with when agreements reached with our international partners," LANA added.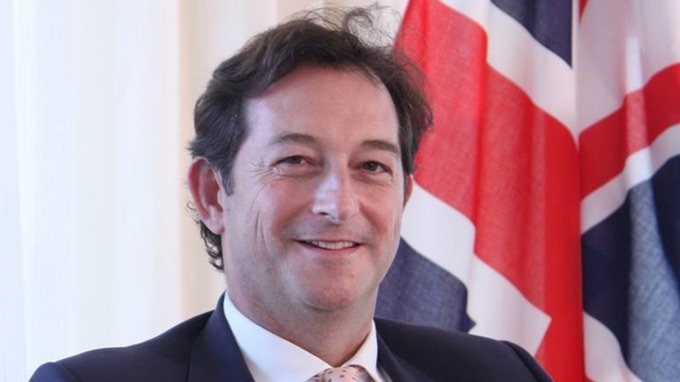 Ambassador Hopton, who usually tweet his activities in Libya, has yet to mention his latest meeting with the oil minister.
Since 2011, there has been an increased public outcry and dissatisfaction as to the flagrant interference in Libyan internal affairs by almost all foreign diplomats and envoys who most of the time exploit the absence of strong central government in the country and move around unhindered by Vienna Convention on Diplomatic Relations.
Ambassador Hopton also discussed with Oil Deputy Minister for Production Affairs, Rifaat Al-Abbar, the framework of cooperation especially in implementing training, development programs and academic studies in various fields in British universities and training centers as well as British oil and gas facilities, as NOC and its affiliated companies have huge ambitious plans that they wish to implement in partnering with these British institutions.
Al-Abbar called on the British ambassador to help overcome difficulties in obtaining the necessary visas and permissions to open up important educational and training prospects for the Libyan personnel in the oil and gas sector.